WALK FOR AUTISM
This year, we invite you to join us at Place du Canada to take part in the Walk for Autism. The activity will start at 12:30 p.m. Children, parents, friends and professionals are invited to participate in this awareness walk. Join us in great numbers and wear blue.
Place du Canada (Peel Street and De La Gauchetière street) Bonaventure metro station.
---
The prevalence of autism is constantly increasing to shocking levels!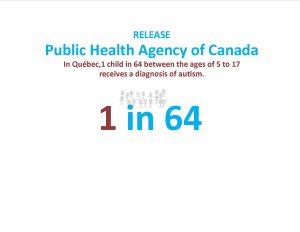 In Quebec, 1 child in 64 between the ages of 5 to 17 receives a diagnosis of autism.
In Canada, 1 child in 66 between the ages of 5 to 17 receives a diagnosis of autism. (Public Health Agency of Canada, 2018)
In the United-States 1 child in 68 will receive a diagnosis of autism, which represents an increase of 123% since 2002.(Center for Disease Control, 2014)