ANNUAL CONFERENCE                                                                                           

Friday October 12TH 2018 9:00 AM TO 4:30 PM
Discovering the Possibilities with  Visual Strategies for Autism                            Meeting the Communication, Behavior & Social Skill Challenges in Autism
GUEST SPEAKER                                                                                                           Linda Hodgdon Éd., CCC-orthoph.
Participant Objectives:
Identify significant factors in learning and functioning style that affect communication.
Informally assess an individual's communication strengths and challenges.
Recognize situations where communication breakdowns can affect understanding, behavior and participation in social opportunities.
Use the Guide for Assessing Behavior Situations to identify causes of behavior problems.
Develop visual tools to support communication, behavior & social skills
Identify uses for a range of low tech to high tech tools such as iPads, Apps and video for meeting communication & learning needs.
 For more information – Conference 
---
The prevalence of autism is constantly increasing to shocking levels!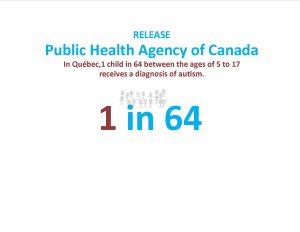 In Quebec, 1 child in 64 between the ages of 5 to 17 receives a diagnosis of autism.
In Canada, 1 child in 66 between the ages of 5 to 17 receives a diagnosis of autism. (Public Health Agency of Canada, 2018)
In the United-States 1 child in 59 will receive a diagnosis of autism, (Center for Disease Control, 2018)