Weekend Respite

The Maisonnette
Every weekend from September to June, Autisme Montreal's respite home welcomes individuals with ASD.
Experience living in a group within a structured setting
Expand the range of interests and activities of participants
Enable participants to socialize while ensuring their wellbeing
Provide parents with a secure and educational childcare setting
Offer respite to families to enable them to rest and recharge their energy
Learn to have fun through play
Work on daily living skills through pleasure and interaction while developing autonomy
Support individuals in learning skills
Modification of the Service Offer of Weekend Respites
Following a survey conducted among our members and review from our Board of Directors, the administrators have decided to modify the respite service offer. Therefore, please note that as of next fall, the weekend respites will start towards the end of September and will be offered as 2-day weekends throughout the year.
---
How it works 
Number of children per weekend: 6 – 7
Ratio: 1 shadow for 1 child or 1 shadow for 2 children (as needed).
Age: All ages are welcome according to the pre-determined age group for each week-end. 
Schedule: As of Friday evening 7:00 PM (after dinner) until Sunday afternoon *4:00 PM  (before dinner). 
* It is important to note that a fee of $ 15 per hour will be charged if you drop your child on Fridays before 7:00 pm or if you come get him after 4:00 pm on Sundays.
Transportation: Parents provide transportation or make arrangements with paratransit. 
---
Current Fees :
$ 275, regular respite (two days)
 Checks must be made out to Autisme Montreal. A receipt will be sent following the respite service.
In case of cancellation : You must notify us at least 72 hours before the respite service starts should  your child not be able to attend on the reserved weekend. Otherwise penalties of $30 will be charged.
To reserve a respite weekend, please contact our Responsable of Direct Services, Coraline Gilbert at 514-524-6114, extension 3182.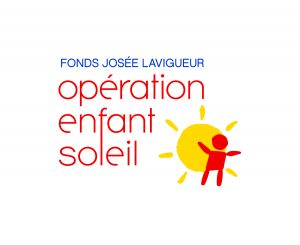 Thank you to Opération Enfant Soleil who, through the Josée Lavigeur Fund, supported our adapted games project for our respite home.
---