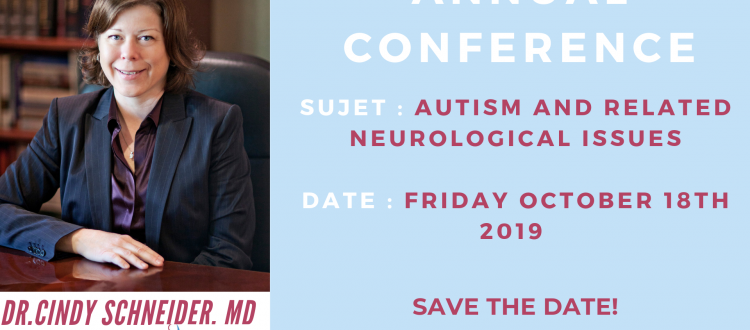 Annual Conference
Friday October 18th 20199:00 a.m. to 4:30 p.m.
From 8:15 a.m., visit the exhibitors' room!
Dre Cindy Schneider                                                                                                      English presentation
Cost :
Parents, individuals with autism spectrum disorder (ASD), students : $30
Professionals : $70
Hellenic Community of Greater Montreal
5757 Wilderton Avenue, H3S 2K8 (Université de Montréal Station)
* Limited parking is available in the neighbouring streets, the use of public transportation is strongly recommended.
Online registration click here

CONFERENCE 2019 (PDF)
Autism and related neurological issues
Neurolgy, as it relates to autism, is often more accurately referred to as neuroimmunology. The immune system and nervous system are intricately related and abnormalities in both are often found in individuals with autism.
Dr. Cindy Schneider will present an overview of basic neurology, outline many of the neurological findings associated with autism, and explain the relationship between neurological symptoms and immune dysfunction. Evidence of neurological inflammation and immune dysregulation in autism will be reviewed and treatment options will be discussed.
Some of the topics that will be presented include Cerebral Folate Deficiency (CFD), as well as seizures/epilepsy, neurotoxins, the endocannabinoid system and the use of cannabidiol (CBD) products, hormonal influences on the nervous system, and mitochondrial disease. Optimizing neurological function can only be achieved when the immune, metabolic, and nutritional needs of a person with autism are fully addressed and this will be the focus of this symposium.
Biography
Dr. Cindy Schneider is the Medical Director of CARE, the Center for Autism Research and Education. Her integrative medical practice is exclusively dedicated to individuals with autism and related neurological and immune disorders. 
Dr. Schneider obtained her Bachelor's degree in Biology from the University of Illinois.  She then completed both medical school and her residency in obstetrics and gynecology at the University of Illinois College of Medicine and practiced obstetrics and gynecology from 1990-1998.  This background provided a comprehensive understanding and appreciation of fetal development and the dangers posed by environmental toxins, viral infections, and nutritional deficiencies.
She is also on the faculty at MAPS, the Medical Academy of Pediatric Special Needs, where she teaches neurology, immunology, and advanced biomedical interventions to physicians seeking a deeper understanding of functional medicine.  She lectures throughout the world on these and other topics relating to autism and other environmentally induced neurological disorders.