ANNUAL ASSEMBLY- COME BRUNCH WITH AUTISME MONTRÉAL  
Dear members of Autisme Montréal, you are cordially invited to a free brunch  with the staff and Board members of Autisme Montréal. We hope to see you at the Annual Assembly on June 8, 2019 at 9 : 00 a.m. This event will take place at 4449 Berri street on the 6th floor. We will take this opportunity to present what was accomplished in 2018-2019.
Please confirm your presence by calling  514-524-6114, ext. 3201.
We hope to see you there in great numbers!
FAMILY FAIR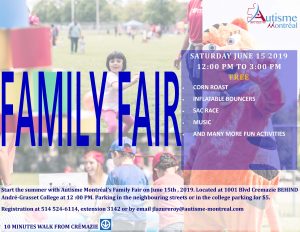 Autisme Montréal is inviting you to its family fair!
There will be games, corn roast and music and all this, completely free. Come celebrate the arrival of summer with us, Saturday, June 15, 2019 at noon,  behind Collège André-Grasset, 1001, Crémazie blvd. east!  In case of rain, the activity will take place in the gymnasium of the Collège.
You have until Tuesday, June 11 to register, at 514-524-6114, ext. 3142 or by email at the following address:  jlazureroy@autisme-montreal.com.
 AN EVENT NOT TO BE MISSED!
INFORMATION SESSION WITH DR. SYLVAIN PALARDY, PSYCHIATRIST AUTISM, COMORBIDITIES AND MEDICATION
(Presentation in French only)
 September 19th,  2019
7:00 p.m.
4450, Saint-Hubert, room 434
Free for members
$20 for non-members
Children and teenagers with an autism spectrum disorder often have comorbidities that may sometimes be the cause of great suffering and have an impact on daily functioning. Medication can be used to help them and allow them to benefit from strategies implemented for them. During this presentation, we will talk about these comorbidities and the medication groups that may be used. We will also focus on some side effects that are sometimes more pronounced for our children and teenagers with ASD, while maintaining the principle: "most of all do not harm".
MADANTORY REGISTRATION
To register, please contact us at 514-524-6114, ext. 3142.