PROTEST – April 2, 2019
On Tuesday, April 2, 2019, World Autism Awareness Day, join us in front of the Montreal office of the Prime Minister, Mr. François Legault, for a festive gathering. Given the exponential increase in the number of individuals with autism and the problems noted in the health and social services network, it is URGENT TO TAKE ACTION! Together, let's raise our voices for autism!
Therefore, we will be expecting you in large numbers at 12:00 p.m. at 2001, McGill College (McGill metro station, exit De Maisonneuve ) to make ourselves heard!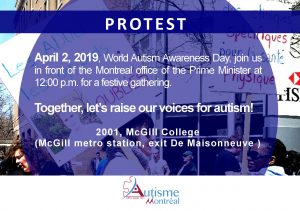 Autism Awareness Walk – April 27, 2019
Join us at Place du Canada, at 12:30 p.m. to take part in the Awareness Walk for Autism. Children, parents, friends and professionals are invited to join this walk. Come in large numbers and wear blue.
Place du Canada (Peel and De La Gauchetière streets), Bonaventure metro station.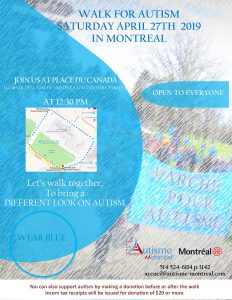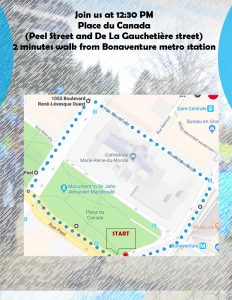 INFORMATION SESSION WITH DR. SYLVAIN PALARDY, PSYCHIATRIST                            AUTISM, COMORBIDITIES AND MEDICATION
(Presentation in French only)
May 9, 2019
7:00 p.m.
4450, Saint-Hubert, room 434
Free for members
$20 for non-members
Children and teenagers with an autism spectrum disorder often have comorbidities that may sometimes be the cause of great suffering and have an impact on daily functioning. Medication can be used to help them and allow them to benefit from strategies implemented for them. During this presentation, we will talk about these comorbidities and the medication groups that may be used. We will also focus on some side effects that are sometimes more pronounced for our children and teenagers with ASD, while maintaining the principle: "most of all do not harm".
MADANTORY REGISTRATION
To register, please contact us at 514-524-6114, ext. 3142.