Swimming Lessons
COVID-19 situation – SWIMMING LESSONS
As the municipal swimming pools are still closed for an indefinite period, the same goes for our swimming lessons.
Autisme Montréal has been offering swimming lessons and aquatic activities for people who have autism or and ASD for many years now. We are lucky to have a wonderful and qualified team of employees, three instructors, two lifeguards and a class supervisor who  help your children learn new skills in the water.
The classes are held Friday nights from 6PM to 8PM, at the Joseph-Charbonneau pool. The participants are separated into two groups, and each group receives a personal lesson every other week. However, every participant can go to the pool every week for an open swim.
Every participant must be accompanied in the pool by an adult at all times, for the lesson or the open swim. They are also under the watchful eyes of the lifeguards.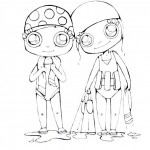 COST
$245/year for 15 individualized sessions and 15 open swim sessions
REGISTRATION PROCEDURES:
Registration for new participants: Participants from the previous year are prioritized for registration. However, it is still possible for you to obtain a place for 2019-2020. Here is how to proceed:
The number of places is limited and we use the first come, first served principle.
The participants from the previous year are prioritized for registration. For new Families, registration will begin by telephone or by email. 
For more information or to register, please contact, the Responsible of Direct Services, by phone at 514-524-6114 extension 3181.