World Autism Awareness Day
The United Nations General Assembly unanimously declared 2 April as World Autism Awareness Day (A/RES/62/139) to highlight the need to help improve the quality of life of those with autism so they can lead full and meaningful lives as an integral part of society.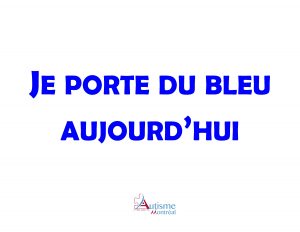 Þ WEAR BLUE
wear blue clothes.
Þ LIGHT IT UP BLUE
light up your building or offices with blue light bulbs.
Þ POST BLUE
on the door of your office, building, business, home or in your windows, put some blue with a word for autism awareness.
If you publish pictures on social networks regarding World Autism Awareness Day (April 2), please do not forget to use the hashtag #2avrilenbleu and do not hesitate to share them at the following address ffirmin@autisme-montreal.com so that we may also share them on our networks.